Wednesday, May 12th, 2010
WHAT IS YOUR TEAM MEMBERS' DEFINITION OF "UP?"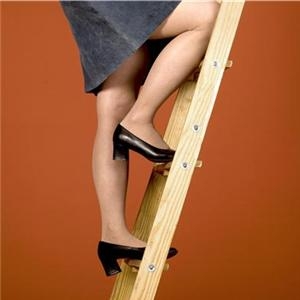 The time is almost here. The time of year, when in a significant number of CPA firms, you begin the annual process of reviewing and appraising performance of your team members. Is this annual event dreaded in your firm?
This year I want you to rethink what climbing the career ladder means. Many of you haven't even developed career ladders for your people and now it's being replaced by something new and more logical for today's worker.
Per Deloitte, we need to be building a Lattice Organization. I, personally, buy-in to this one. It simply makes sense. It will help CPA firm leaders deal with succession and the future potential of their firm, long-term.
The end of "normal" career paths and work patterns is upon us. Today a career is no longer a straight climb up the corporate ladder, but rather an undulating journey of climbs and lateral moves. The proverbial corporate ladder is evolving, right before our eyes, into a corporate lattice.
The broader term for this is Mass Career Customization. I talked about it back in February at the Boomer Human Capital & Learning Symposium and on this blog.
We often lose some of the best and brightest, young CPAs because they cannot meet our expectations of climbing the ladder. They are already building lattice-like careers by moving in and out of organizations. CPA firms can gain a significant competitive advantage by recognizing the reality that life as a CPA professional must have the flexibility to dial-up and dial-down.
I urge you to read this article, "Building a Lattice Organization" before you judge, counsel and set goals for your valuable team this summer.
Also, visit the MCC site. You can learn all about it and there is even an interactive exercise.
"But day in and day out, the most stimulating part of the work is being a member of a team of so many very bright, articulate and talented professionals." – – Randy West